There are several types of orthodontic systems that can help a patient have a healthy bite and smile. Selecting an orthodontic system comes down to a patient's treatment needs and existing dental conditions. Every type of appliance and orthodontic gear has the potential to enhance or hamper your smile, that's why talking with your orthodontist about your needs and wants is important.
---
Different Needs For Different Patients
Adult orthodontic patients may present with the same bite concerns that plague teenagers, but with the added complication of existing gum disease.
It's known that many adult patients love Invisalign® for its discrete form factor.
It allows patient to attend professional and social occasions with confidence, but this orthodontic technology also provides patients with the advantage of being able to care for teeth and gums without the hindrance of brackets, wires, and elastics.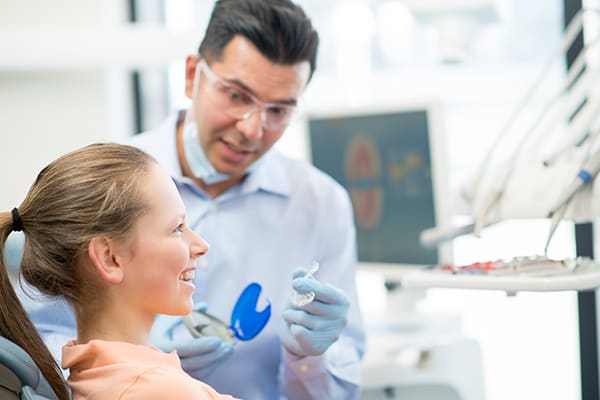 What Happens to Gums & Bone During Tooth Movement?
The benefits of orthodontic treatment go beyond aesthetics. Speech, chewing, and overall oral health is improved when teeth are in correct alignment.
The process of moving teeth should always be done in a controlled manner to allow oral tissues to adapt to forces and movement. When a condition like gum disease exists prior to treatment, extra care and attention is taken to move teeth in a manner that does not cause further damage to gums and supporting bone. One way to minimize the risk of irritating gums further is to incorporate Invisalign® in to the treatment plan. Inflammation is a normal response to tooth movement as oral tissues adjust to a tooth's new position, but reducing the inflammation with regular brushing and flossing throughout the day can help control existing gum disease and prevent it from becoming worse.
Brushing & Flossing is Easier With Invisalign®
All orthodontic systems do a great job of moving teeth, but when it comes to keeping gums and teeth squeaky clean during treatment, Invisalign® makes the task a whole lot easier. The aligners can easily be popped out after eating, so patients can brush and floss. Less food stays trapped between teeth and under gums, and that's obviously great news. Though brackets and wires are excellent at moving teeth, they don't always make oral hygiene easy. Navigating around hardware can be tricky and time consuming, and many patients are tempted to skip brushing and flossing altogether. 
When it comes to having a healthy smile and healthy gums, Invisalign® can help patients achieve this goal. Need more information on Invisalign® and teeth straightening options? Contact Orthostyle Montreal  today at (514) 733-3459 .